Monster 1200S
1200S - Monster Essence
Ducati goes back to its Monster roots, but with a motorcycle that's new in both form and function. When Ducati designers started working on the new Monster 1200, they drew their inspiration from the basics behind that ground-breaking 1993 model: the concept of a sport naked bike.
A forward looking icon
The Monster 1200 is packed with new design and content, but with true Ducati naked flair. The higher-performance S version of the Monster 1200 has a sleeker tank, a fully redesigned sports-style tail, an all-new technologically advanced headlight and a first-rate electronics package derived from the one on the 1299 Panigale.
The Monster 1200 is Monster through and through. Shaping, silhouettes, fuel tank and headlight are faithful to the lines of the bike that came out in 1993. The iconic, unmistakeable steel tank has once again been fitted with an attachment clip, just like the first Monster.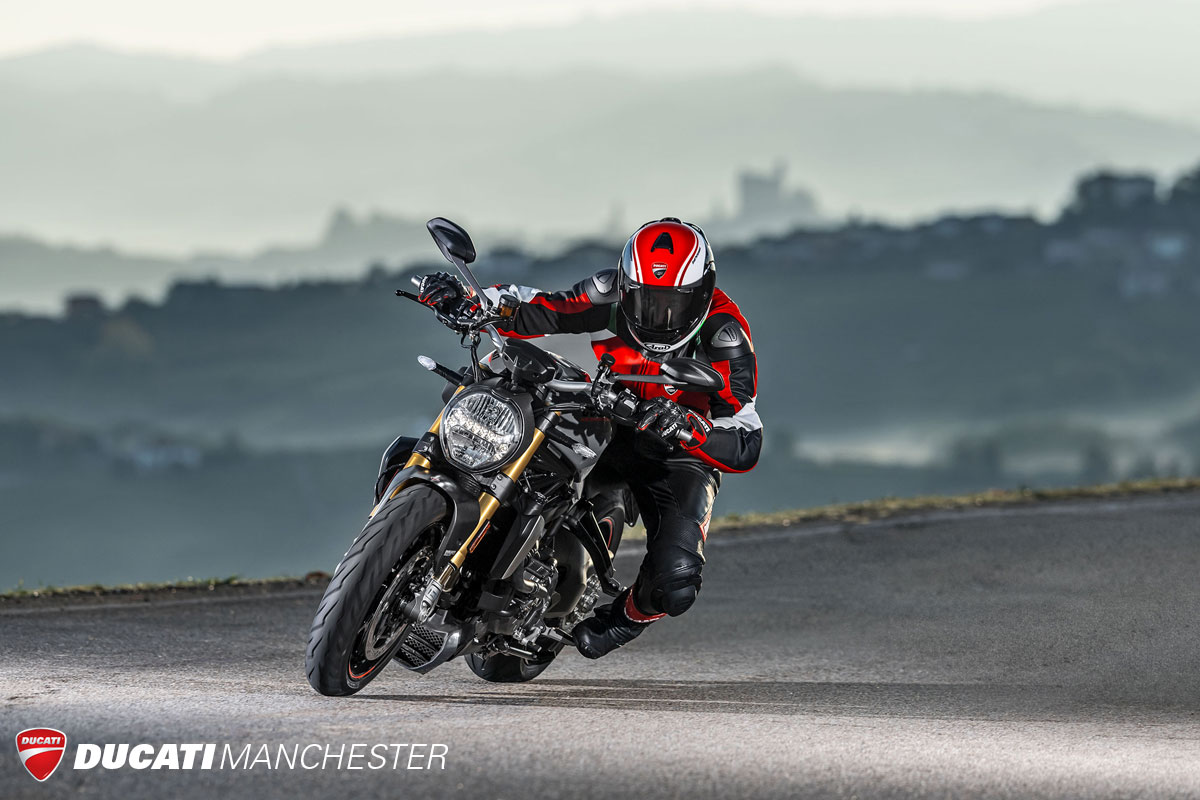 COLOURS
The 2020 Monster 1200S is available in the following colours:
Ducati Red
Black on Black
Call Ducati Manchester to learn more.
MONSTER 1200S VIDEO
S Model Upgrades
The exclusive Monster 1200 S sharpens that Monster sports performance to an even finer edge thanks to a 48 mm Öhlins fork and rear Öhlins monoshock, both fully adjustable. Awesome braking is provided by two 330 mm Brembo discs at the front working in concert with Brembo M50 monobloc calipers. Moreover, the Monster 1200 S features wheels with three Y-spokes featuring exclusive S graphics and a front carbon mudguard while the front headlight is characterised by the DRL (Daytime Running Light) system and LED - not bulb type - indicators.
Monster 1200S Equipment Overview
1,198 cm³ Testastretta 11° DS engine with 150 hp at 9,250 rpm and 126.2 Nm at 7,750 rpm
Euro 4 emissions
Exhaust with dual silencer
Headlight with DRL
Wheels with three Y-spokes mounting DIABL
ROSSO™ III tyres, 120/70 ZR17 up front and 190/55 ZR17 at the rear
Adjustable 48 mm Öhlins fork
Fully adjustable Öhlins shock absorber
Brembo front braking system with 330 mm discs and M50 calipers
3 Riding Modes
Ducati Safety Pack (3-level Bosch Cornering ABS, 8-level DTC, 9-level DWC)
Colour TFT instrumentation
1200S DESIGN
Another feature that has always been a Monster hallmark is the headlight. Fully redesigned for this motorcycle, it now features dual parabolas and, on the Monster 1200 S, the DRL (Day Time Running Light) too. The adoption of this new headlight has led to the development of a new instrument panel support, now attached to the handlebar risers. This gives the front end a visually "lighter" look, thanks also to repositioning of the indicators, now underneath the top yoke and not on the headlight itself. Moreover, the motorcycle also features new switchgears.
Another important step taken by the Ducati Design Center has been to reduce - and simplify - the number of plastic parts. The expansion tank cover is now more compact, the radiator cap is minimalist and the exhaust manifold guard has a more "technical" look. These changes give greater prominence to the frame in side-on view.
More than twenty years on, then, Ducati continues to develop this incredibly successful model. A bike that has, over time, been remoulded and reinvented, has become a customisation and personalisation favourite and has exerted a huge influence on the entire motorcycle industry for well over two decades.
Monster 1200 S Specs
1200S engine
The Monster 1200S is powered by the liquid-cooled 1198 cm3 twin, 4-valves-per-cylinder Testastretta 11° DS. Euro 4-compliant, the engine is also a structural element of the chassis set-up, with attachment points on the Trellis frame. This engine delivers a huge 150 hp at 9,250 rpm. Thanks to the new throttle bodies and the dedicated exhaust, Ducati has produced an impressive torque curve that means even more riding enjoyment, generating a maximum torque of 126.2 Nm at 7.750 rpm.
The 1198 Testastretta 11° DS gulps in air via Mikuni Ride-by-Wire oval throttle bodies (equivalent diameter 56 mm) and features a twin-spark set-up: the double flame front ensures complete combustion within an ultra-short interval, giving - together with the secondary air system that optimises performance by reducing combustion cycle dispersion but without affecting emissions - smoother power delivery and an even more enjoyable, exciting ride.
Keeping the engine cool is a curved radiator with two high-efficiency electric fans.
The Monster clutch, instead, is of the oil bath slipper type with ultra-low effort lever control. Spring load is automatically increased by a progressive self-servo system. The outcome is much better fingertip "feel", ensuring excellent comfort when frequent gear changes are inevitable (e.g. in city traffic) or on long rides. When the rear wheel exerts back-torque, the same mechanism reduces pressure on the clutch discs, activating the slipper function and so preventing rear end destabilisation during aggressive downshifting.
The exhaust ducts, with a cross-section of 50-52 mm, are part of a 2-1-2 system designed with identical lengths for both cylinders in order to maximise power and delivery efficiency. This system features a lambda probe for each cylinder to make fuelling both autonomous and optimal. Ducati's nonstop investment in quality and reliability means the Testastretta 11° DS engine on the Monster 1200s has lengthy maintenance intervals: valve timing adjustment is now needed just once every 30,000 km (18,000 miles).
Features
The Monster 1200S is equipped with fully adjustable suspension and shock, both by Öhlins. The braking system, produced by Brembo, sees two radially mounted Monobloc M50 callipers acting on two 330mm discs at the front; the same components as those on the 1299 Panigale sports bike.
Frame
On the Monster 1200S the engine acts as a load-bearing element, the Trellis frame being attached to the cylinder heads, a racing-derived concept first applied on a factory bike with the Panigale project. This configuration gives a highly compact, light frame, while large cross-section tubing gives the high torsional rigidity that is perfect for bringing out the motorcycle's dynamic performance. The Monster 1200s also boasts an all-new, beefier swingarm and a compact 1,485 mm wheelbase.
The rear seat-carrying subframe - also attached directly to the engine - has been redesigned to provide a compact structure that also supports the new passenger footpeg struts. These pegs are separated from the rider's to ensure greater freedom of movement in sport-style riding. Both rider and passenger footpeg attachments are made of die-cast aluminium and mount aluminium pegs. To underline the Monster's sport pedigree, the rider's pegs also feature aluminium heel guards.
Suspension
The Monster 1200s features fully adjustable 43 mm Kayaba forks up front, while the Sachs shock absorber at the rear has spring pre-load and rebound damping adjustment. The Monster 1200s S, instead, mounts 48 mm fully adjustable Öhlins TiN coated forks and a fully adjustable Öhlins shock absorber. At the rear, the shock absorber works in concert with progressive linkage; it is attached directly on the vertical cylinder head at one end and on the die-cast aluminium single-sided swingarm at the other. The Monster 1200s employs a Sachs shock absorber, while the Monster 1200s S features a fully adjustable Öhlins model.
Tyres and wheels
The Monster 1200s is equipped with light 10-spoke Panigale style alloy wheels, 3.5" x 17" at the front and 6.0" x 17" at the rear, while the Monster 1200s S offers up wheels with three Y-spokes that have undergone finer supplementary machining. Moreover, the wheels on the S version have exclusive "S" graphics to highlight their racing character. Both models mount Pirelli DIABLO ROSSO™ III dual-compound tyres, 120/70 at the front and 190/55 at the rear, that combine mileage-enhancing durability with constant grip, even in assertive cornering. These quality tyres implement Pirelli Enhanced Patch Technology (EPT) to maximise the contact patch area whatever the lean angle, and Functional Groove Design (FGD) to optimise performance in the wet.
Maintenance
Ducati's nonstop investment in quality and reliability means the Testastretta 11° DS engine on the Monster 1200s has lengthy maintenance intervals: valve timing adjustment is now needed just once every 30,000 km (18,000 miles).
Ducati guarantees all its bikes for a period of 24 months from registration, with unlimited mileage.
Learn more about Ducati Warranty
Monster Clothing Line
Sporty mood and maximum protection, always with unmistakable style.
We carry the full selection of Ducati Clothing available in-store or online.
Finance Options
We offer a range of affordable finance options on new & used Monster motorcycles.
We'll Buy Your Monster
We want your Ducati
Top prices paid for all Ducati motorcycles. Quick & Easy - No Hassle or Gimmicks.